Humidifier Aromatherapy
Essential oils have become extremely popular in the last few years, whether it be for health reasons or to simply relax to the different scents. And with the rise of essential oils came diffusers as a way to experience the fantastic properties of the oils in your own home. One very popular method for this is an aromatherapy humidifier.
How Does It Work?
An aromatherapy humidifier is a very effective method to use essential oils in your daily life. It works much like a regular humidifier in that it evaporates the water into the air, but you can also add a few drops of your favorite oil to it as well.
There are other methods for diffusing oils (such as candles or a fan), but the advantage of using this type of diffuser is it functions not only as a diffuser but also as a humidifier as well.
Why Is It Used?
Aromatherapy humidifiers are first humidifiers, meaning it is naturally used for any reason a regular humidifier would be used for.
This can range from simply making an area more comfortable to help soothe a cold or other illness.
The benefit comes from being able to add essential oils. This opens the possibilities for any of the reasons you might use the oils. Stressed? These are great for helping to relieve stress by diffusing lavender essential oil into the air. Want to make yourself more alert?
Peppermint is a great scent to diffuse for alertness. Need to clear your sinuses? Eucalyptus can be used along with the humidifier to help make breathing easier. And of course, if you just want to make your home smell fantastic, an aromatherapy humidifier is a great option for that as well.
While other diffusers are excellent, an aromatherapy humidifier really takes the cake as it offers the health benefits of having a humidifier in your home.
What to Look for when buying an essential oil diffuser?
So you've decided to buy an aromatherapy humidifier—now what are the features to look for when buying one? Naturally, you'd have many of the same considerations as when buying a regular humidifier. Does it mist evenly? Is it loud? Does it completely soak everything around it?
Other aspects to consider are the size; you don't want it so big it's distracting in a room. Since many diffusers are placed in more public areas—like the living room or an office—it's also important for the diffuser to look presentable. The last point to consider is how long the diffuser will last. The longer it runs without a refill, the less you'll have to worry about it.
Choosing Your Aromatherapy Humidifier:
InstaNatural Essential Oil Aromatherapy Diffuser

At the top of the list, we have the InstaNatural Essential Oil Aromatherapy Diffuser. With a very sleek, modern design, this diffuser promises 4-5 hours of run time. It also has an LED light that is perfect in children's rooms to double as a humidifier and night light; however, the light does not have an option to turn off.
Operating it is extremely easy. Just plug it in, pour some water and put a few drops of essential oil in, and let it do its thing. It's also virtually silent, making it perfect for any room in your home. And if your water is running low, the diffuser will turn off on its own.
This is certainly a very "bare-bones" aromatherapy humidifier—there are no extra features. But sometimes simplicity is the best, and for this product, that's definitely the case.
UrPower 500ml Aromatherapy Essential Oil Diffuser Ultrasonic Air Humidifier

One of the biggest selling points for the UrPower Essential Oil Diffuser and Ultrasonic Air Humidifier is it has massive water well, topping in at 500ml; this allows the diffuser to have continuous mist for up to 10 hours—which is significantly more than many other models. Or, if you so desire, it has the option to set a timer for a specified amount of time. Once the water is low, the humidifier will turn off on its own.
It has a very simple, round design that blends in well with any room. It also has an LED light you can leave off, or choose from several colors including white, blue, green, and many more. And if it couldn't get any better, it's easy to use and operate—fill the water reserve, a couple of drops of oil, and all done.
UrPower Wood Grain Ultrasonic Cool Mist Whisper-Quiet Humidifier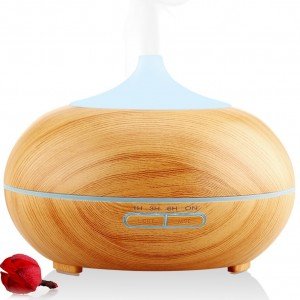 The UrPower Wood Grain Ultrasonic Humidifier is similar to the above product in many ways. This diffuser shares the 10 hours run time, automatic turn off, and LED lights that can either cycle through for be turned off completely.
It also includes the timers for various amounts of time. And it's just as easy to use and operate as well.
There are a couple of differences that certainly sets it apart from other brands and products. First is the wood grain design on the outside. It's a beautiful accent and definitely makes the diffuser more elegant and appealing.
Second, it does have a smaller water well coming in at about 300 mL. However, the smaller water reserve doesn't seem to affect the run time at all.
This diffuser really has all the bells and whistles. Not only is it easy to use and works as expected, but the wood grain design really shows that a diffuser can be functional and beautiful at the same time.
InnoGear® 100ml Aromatherapy Essential Oil Diffuser

Like the products mentioned above, the InnoGear Essential Oil Diffuser has many perks including various settings of operation (intermittent or continuous mist), an LED light that will change color, and an automatic shut off for when the water reserve runs too low.
The water reserve isn't as large—only 120 mL—and when continuously running, it promises about 3 hours of mist. It's a modern cylindrical shape and definitely small enough to fit into any space. While it doesn't have any particularly outstanding features compared to the others mentioned, it is a reliable and excellent diffuser for any home.