Pros: A+ BBB Rating
Toll Free phone support
Tests wide range of STD's
Privacy is secure
Many insurances are accepted

Cons: No email customer support
Results may take up to 3 days

STDTestExpress.com is an confidential online STD testing service, that allows you to get tested at one of thousands of clinics anonymously.
STDTestExpress handles all the paperwork and you get peace of mind with accurate results emailed to you within a few business days. Below you can read my review and see how the process works from start to finish.
How it Works:
Buying a test through this website is very quick and easy. It is designed to be that way, all while keeping your information private.
Step 1: Choose which STD's you wish to be screened for. You can screen for one individual STD or up to eight at once. I break down which STD's you can check for and how much it costs below.
Step 2: Choose a testing lab in your area. According to STDTestExpress they have over 4,000 clinics to choose from. It is important to note, they do not own the clinics but simply partner with them to provide the necessary screenings.
No appointments are necessary and all the paperwork is handled for you. What is really nice, is you are assigned a random number that you report to the clinic, you remain totally anonymous.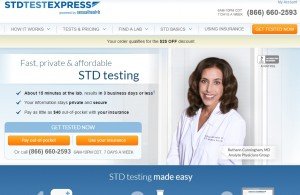 Step 3: Once at the lab you will provide a urine and/or blood sample. This process usually takes 10-15 minutes. That is it, you are now free to leave the clinic.
Step 4: Wait for the results. Results usually take up to three business days. Other companies I have reviewed are a bit quicker but three business days is still a reasonable amount of time.
Test results are sent to you through email, and to protect your privacy, STD testing is not mentioned in the subject of the email simply "APG Services"
Step 5: If you test positive for anything except herpes 1 (which generally is a harmless infection that results in cold sores on the mouth). You can get a doctors phone consultation at no additional cost to ask any questions you might have.
According to the laws of your state and if medically necessary the doctor can even prescribe medication.
Cost:
The most common test is the "8 Test Panel" which tests for Chlamydia, Herpes 1 & 2, Gonorrhea, Hepatitis B & C, HIV, and Syphilis. This panel costs $249, but I have arranged a special HelpfulReviewer.com $25 off discount that works with all orders. More information on the discount below. You can also test for individual STD's and that generally ranges from $79-$149 per STD.
You can choose to pay out of pocket, but many insurance providers are accepted. No insurance is accepted from AR, DE, OK, SC, TX or VT, residents.
BBB Rating:
Based out of Chicago Illinois, and currently doing business as APG Services, STDTestExpress.com at the time of this writing has a perfect A+ rating with the Better Business Bureau. They are great at resolving any customer issues that arise. If you wish to view the full BBB report you can view it at the link below.
http://www.bbb.org/chicago/business-reviews/internet-services/apg-services-in-chicago-il-88366364#bbbseal
Customer Support:
A toll free phone number is prominently listed throughout the site for any questions you might have. Unfortunately there is no email customer support available, which I believe is an important component to a website like this.
Telephone customer support was very friendly and helpful to me, but I believe a well rounded site would email support as well.
Site Design:
The layout and design of STDTestExpress.com is bright and very user friendly. It is very easy to add tests to your shopping cart, and the checkout process is presented in an easy to read format.
FAQ: (Frequently Asked Questions)
Online STD testing can be confusing and intimidating. STDTestExpress provides a very helpful FAQ page that has a large number of questions that you might have along with the answers. Many questions are also answered with videos.
Privacy Policy:
Any company dealing with your health information should make privacy their number one concern, and STDTestExpress certainly does. Your information is always kept secure and confidential. They have a large privacy policy on their site that I recommend you read before you place an order.
Discounts:
I arranged a special deal for HelpfulReviewer.com readers Clicking the orange shop now button below will automatically take $25 off your order!