Pros: Fast cust. service
Beautiful site design
Fun sock designs
Donates lots of socks to charity

Cons: No toll free phone number

SockPanda.com is a fun and unique subscription service that sends you a new pair of socks each month. The socks that get sent to you are not just any socks, however. Read on and see what I mean, below I review Sock Panda based on nine factors.
Customer Service
When reviewing companies I like to send an email to their customer service department and see how long it takes to get a reply. I sent an email to Sock Panda on a weekday afternoon and received a friendly and helpful response in one hour! I like to see customer service replies within 24 hours, in one hour is quite impressive.
BBB Rating:
At the time of this writing, SockPanda.com does not currently have a rating with the Better Business Bureau as no complaints have been filed against them.
SockPanda.com Site Design:
The layout of SockPanda.com is bright and friendly. When you are buying something like designer socks, you do not want to deal with a boring site, and SockPanda does a good job of making the shopping experience fun.
Checking out is a pain-free process and everything is available on one page. I don't like it when companies require you to create a user account and SockPanda does. However, with a product that has recurring billing, it seems to be more useful to have an account created.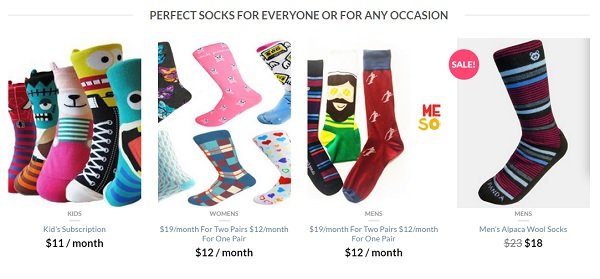 Product Selection:
Men's, women, and kids' socks are available. Men's and women's socks both have two styles that you can choose from, cool or bold. "Bold" socks are bright and showy and have fun unique designs. "Cool" socks are slightly toned down. For men "cool" socks offer a unique twist on dress socks, mainly using stripes, squares, and argyle designs.
Kid's socks are really bright and fun and are available in boy and girl styles.
Men's socks will fit comfortably for shoe sizes 8-12
Women's socks will fit comfortably for shoe sizes 5-10
Cost/Pricing:
Men's and Women's socks are $19/month for two pairs or $12/month for one pair. You have the option of choosing your subscription length (6 months, 1 year, or until you say so)
Kid's socks are $11/month
FREE SHIPPING on all orders!
International orders are available for an extra $3 month
Gift subscriptions are available.
NOTE: Keep reading for a coupon code that will lower your cost!
Privacy Policy
SockPanda.com does provide a privacy policy. It is not as detailed as policies from other companies I have reviewed, but it does explain how your private information is handled. You can view it here.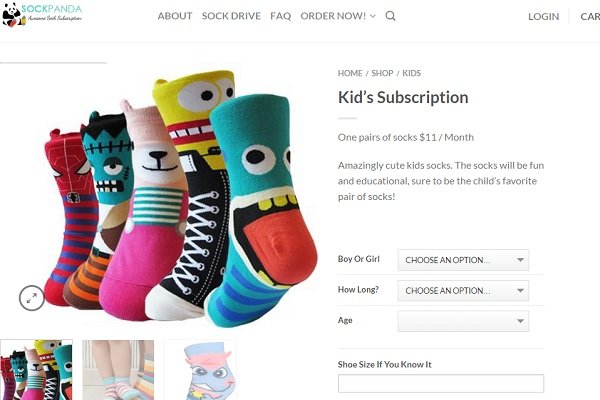 F.A.Q. (Frequently Asked Questions)
SockPanda.com has a helpful FAQ page that lists common questions that you might have. All the questions are answered with a nice friendly tone.
Toll-Free Phone Number:
SockPanda does not offer a toll-free phone number, however, they do have a phone number that you can call with questions that you might have. They can be reached at 1-650-30-SOCKS Monday through Friday 10 am-5:30 pm PST
Discounts:
Here at HelpfulReviewer.com we try to save you as much money as we can. We have arranged a discount code for our readers. Make sure to click the Shop Now button below and enter the code "PANDA10" at checkout, and 10% will be taken off your order total.