Pros: Sets for all ages
Helpful support
Sanitized & Cleaned
Easy to sign-up
Free shipping
Cons: USA Only
Can not get multiple sets
NOTE: I originally reviewed Pleygo, but as of the summer of 2014 they rebranded to Pley. The product and the service are still the same, simply a different name. Pleygo and Pley will be used interchangeably throughout the article.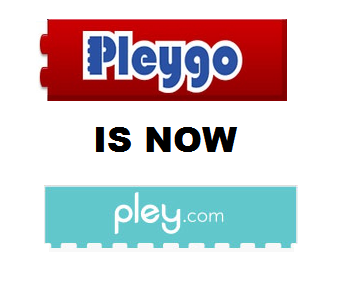 Whether you are a kid or an adult, LEGOs are fun to put together but you may not always have the room or the space to keep them displayed. The real fun is in the building. Pley lets you have all the fun with none of the hassle of storing or keeping the creations you make.
Pley is a Netflix like service that allows you to rent LEGO sets and keep them for as long as you like. When you return a set a new one is shipped to you.
SIGNUP PROCESS:
When you sign up, three monthly plans are available to you. Each plan allows you one set out at a time, and the higher priced plans let you request bigger sets.
"FAN" is the first option at $15/month This is a great starter plan to test out this service and you get to choose from small and medium sized sets. Most sets in the "FAN" plan range from 125-250 pieces. At $25/month "SUPERFAN" allows you small, medium, and large sets.
If you or your children are big LEGO fans then "MEGAFAN" is the plan for you. At $39/month you get to choose between all of the sets including the huge sets, which can have up to 5,000 pieces!
Any time after you sign up for an account you can easily upgrade or downgrade your plan.
A big plus for Pley is you do not have to pay any shipping costs. A pre-paid mailing label is sent with each set, so the monthly price is the only money you will have to pay.
Currently Pley is only available to those who live in the United States.
CREATING WISHLIST:
Once your account is created, you can start filling in your wishlist. Your wishlist is like a Netflix queue, you add sets from your plan that you would like to get.
Sets at the top of your wishlist will be sent to you first. Once the first set is returned to Pley the next set in your wishlist will be shipped.
There is a nice variety of sets available including Star Wars, cars and trucks, Lord of the Rings, animals and many more. If you have kids that are 2-3 years old you can search for Duplo and see only age appropriate sets.
LEGO sets targeted towards girls are also available. All the sets that you can add to your wishlist have age recommendations
When creating your wishlist, Pley recommends starting with at least 10 sets in your list. It is important to note that you will not necessarily get the first set on your list.
The first set I received was fifth on my list. Adding or removing items from your wishlist is very easy. Changing the order is also a simple procedure.
One negative I noticed when creating my list is sets already added to your wishlist still show up in search. What would be nice is instead of seeing an "Add to Wishlist" button on sets you already requested you would see "In Wishlist"
ARRIVAL:
Even as an adult it was still exciting to see the Pley box arrive in the mail. Shipping of my first set took approximately three days.
My first set a Star Wars AT-RT was sealed in a ziploc bag along with the manual inside the shipping box. A small bag of spare bricks is also included though I did not need to use them.
If a piece is missing you can order a spare piece direct from your account.
VERY IMPORTANT! – Make sure when you or your children get a set you do not tear into the shipping box. The box that the LEGO's are sent in is the box they need to be returned in so be careful!
The set I received had all the pieces and looked great. I was also impressed to learn that when each set is returned, Pley cleans and sanitizes the set with a fancy ultrasonic technology. You can view a video of that process here.
Losses of bricks happen so although it is important to be careful with each brick you will not be charged if you lose a few pieces.
If you love a set once it is completed you can buy it at a discount, and the next set on your wishlist will be shipped. When you are ready to return a set simply disassemble everything place it back in the bag along with the manual and seal it in the shipping box.
Place the pre-paid shipping label on the box and give it to your mailman or drop it in any USPS mailbox.
SUPPORT:
Pley offers a very helpful Frequently Asked Questions page that will be able to answer almost any question you have. Email support is also available.
I tested the support team by sending a question through email. I received a courteous response and answer to my question within an hour.
SUMMARY:
Overall I was very impressed with Pley and I highly recommend the service. I wish you could have more than one set out at a time, and I would have liked the wishlist process to be a bit easier, but these are only minor issues.
Pley can be given as a gift to any LEGO fan in your life and I am sure anyone you give this to will be pleasantly surprised.