Pros: A+ BBB Rating
FREE Shipping
Easy to use phones
No contract required

Cons: Strict return policy
Slow customer support response

GreatCall Inc. is the creator of the very user-friendly Jitterbug phone. The Jitterbug is a great no-contract phone, for the person who wants a phone but not the technical struggles.
I have reviewed Great Call Inc. on 10 different factors. Each factor was given a score out of 10, for a final score out of 100. The results are below.
BBB Rating – 10 out of 10
Based out of San Diego CA the Jitterbug phone is produced by Great Call Inc. They currently have an A+ rating with the Better Business Bureau. You can view the full report here.
Shipping Rates/Policies – 10 out of 10
Free ground shipping on all orders (US Only, excluding HI, AK, PR) Delivery of in-stock orders usually takes 3-7 business days. Expedited shipping is also available and usually takes 1-3 business days at a cost of $20.
Cost – 8 out of 10
GreatCall offers two easy to use phones with no contracts. The standard Jitterbug which is a bare-bones flip phone style phone is available for $99.
The more advanced Touch3 is a touchscreen phone with more features and is available for $149.99. Each phone is charged a $35 activation fee when ordering.
Monthly Fees – 8 out of 10
Two monthly plans are offered. The "Basic Plan" starts at $14.99 and offers 50 talk minutes per month. The "GoPlan" starts at $24.99 and includes a well designed medical alert feature, with one-button access to medical alert specialists.
With the GoPlan you also get unlimited 24/7 access to certified nurses and doctors. 50 talk minutes per month are included with this plan. Data plans are also available starting as low as $2.49 per month for 20 MB of data usage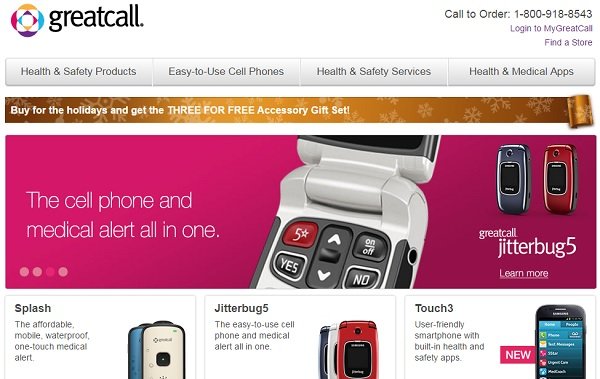 Greatcall Inc. Customer Service – 6 out of 10
A toll-free phone number is listed prominently on the homepage – 1-800-733-6632. A link for customer support through email is easy to find. However I sent a test question to Great Call's support team through email, and I did not receive a reply until two and a half days later. The response was courteous and helpful but it took too long.
GreatCall Inc. Guarantees – 7 out of 10
You can return any phone within 30 days for a full refund, as long as you have used less than 30 minutes of talk time and the phone is in like-new condition or better.
The activation fee and first-month service charge are non-refundable if the above conditions are not met.
FAQ/ Privacy Policy – 10 out of 10
A huge Frequently Asked Questions page is available to answer any additional questions you have, in a very easy to read format.
The privacy policy available on the site clearly lists all the information that is retained by GreatCall. The privacy policy also states how your privacy and information are protected.
Website Design – 9 out of 10
The website is very well designed and navigable. All important features are prominently displayed in bright colors and large fonts.
Checkout Process – 9 out of 10
The checkout process is very streamlined and efficient. It is very easy to add or remove services and accessories as you proceed through checkout. American Express, Mastercard, Visa, and Discover are forms of accepted payment.
Coupons/Discounts – 7 out of 10
While not many discounts or coupons are offered for the Jitterbug phone, we have arranged a special offer for HelpfulReviewer readers. Click the shop now button below to get your first month free of Jitterbug Touch service.
Summary
Overall GreatCall Inc./Jitterbug receives an 84 out of 100 Customer service can be improved, along with the strict return policy, but overall the Jitterbug is a great phone and value. If you are in the market for a no contract, low hassle phone the Jitterbug is the way to go.