Pros: A+ BBB Rating
Beautiful Site
Helpful Customer Support
Seamless Integration
Fun to Use

Cons: No Toll-Free number
Inaccessible offline

Face it: Grammar is difficult. While the basics are easy to master, such as when to use a question mark in lieu of a period, there are 100s of tiny grammar rules that you can easily lose track of.
Enter Grammarly, an Internet browser add-on that makes sure you've crossed every T and dotted every I. Whether you're a student who wants to make sure his English paper is perfect or a freelance writer who needs impeccable grammar, Grammarly can help you.
Available as a free add-on, Grammarly works on every mainstream Web browser, including Mozilla Firefox and Google Chrome. As you type, Grammarly monitors every word and immediately alerts you when it detects a basic grammar error.
In addition to offering a corrected version of your error, Grammarly goes one step further and tells you why it thinks you're in the wrong. Instead of just fixing your mistake for you, Grammarly looks to leave you with grammar knowledge that you can apply to your future writing.
The free version of Grammarly is a great program in its own right, but for those writers looking for a more in-depth analysis of their writing will want to spring for the premium version.
For a small monthly fee, the premium version of Grammarly corrects advanced grammar issues, integrates into Microsoft Office and Outlook and gives you access to 24/7 phone and email support.
Read below to find out more details. By the way, yes this article was checked by Grammarly!

BBB Rating:
Grammarly currently has an A+ rating with the Better Business Bureau and looks to quickly handle and close the complaints that are brought up.
You can view the full BBB report here.
Customer Service:
Customer service is a very important aspect of any company I review, so I always send out a simple question to their support team and see how long it takes to respond.
I sent a question on a weekday afternoon and received a response 2 hours later! Very impressive!
A prominent "Contact Us" page is at the bottom of the site with all the contact information displayed nicely.
Toll-Free Phone Number:
I like to see a toll free phone number listed by companies, as it provides a quick help line. Grammarly does not have a phone number listed.
FAQ/Privacy Policy:
When handling credit card information, or other personal information an e-commerce website should always have a privacy policy explaining in detail how the information will be processed.
Grammarly does a great job, with a well worded and informative policy.
It is also common to see a FAQ or Frequently Asked Questions page on websites like Grammarly. They do not have a FAQ page but they do have a Support desk that is displayed the same way.

Design of Site:
The Grammarly site is gorgeous and well designed. All the information is quickly accessible, in an easy to read format. Bright bold colors and no superfluous data makes this site pop. I also love when you scroll through the site, the data changes seamlessly.
Prices:
As mentioned in the introduction, Grammarly is free with an option for a premium upgrade. At the time of this writing, you can access Grammarly for $11.66 a month if you pay for the full year, $139.95.
If you decided to pay each quarter your total is $59.95 or $19.98 per month. You can also pay per month at a price of $29.95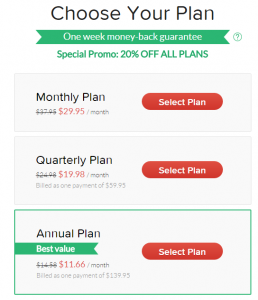 Account Cancellation:
If for any reason you want to cancel your premium plan you can easily do so. Simply go to the Subscription tab, and click "Manage Subscription". Make sure to click "Cancel future billing" and "Confirm cancellation"
At the end of your current billing cycle, your plan will be downgraded to the free only version. If you cancel halfway through the month you will not be given a pro-rated refund rather you will have the premium version until the period you paid for expires.
Money Back Guarantee:
If you do not like Grammarly and cancel your subscription within the first 7 days you will get back 100% of your purchase price. You can cancel for any reason.
Ease of Checkout:
Checking out, or upgrading to the premium version could not be any easier. In your main Grammarly hub click the Premium link and choose your billing plan. Simply enter your credit card and you are all set! I am a fan of everything being on one page.
Payments Accepted:
Grammarly at the time of this writing accepts Visa, MasterCard, Discover, American Express, and PayPal.
In conclusion, I truly think that Grammarly is a very well-designed product that works seamlessly in your daily life. If you're looking to make sure your online writing is the best it can be, sign up for Grammarly today.