Pros: BBB rating of A
Friendly customer service
Great discounts available
Easy to create a canvas

Cons: Canvases may fade when in direct sunlight

EasyCanvasPrints.com allows you to turn any photograph into a museum quality canvas and have it shipped directly to your door. Below we provide a review of Easy Canvas Prints based on 8 different factors.
BBB Rating:
Based out of Austin Texas, Easy Canvas Prints currently has an A ranking with the Better Business Bureau. And the important information one needs to remember is that they have been A-rated and accredited since 2010. The main reason is that they promptly handle any customer complaints and inquiries that may arise.
You can view the full BBB report at the link below.
http://www.bbb.org/central-texas/business-reviews/canvas-goods/easy-canvas-prints-in-austin-tx-90086560/
Customer Service:
When reviewing companies we like to send an email to their customer service department, and see how fast they respond to the query. Here is what we found out.
We sent an email to Easy Canvas Prints on a weekday afternoon. We received a helpful and courteous response in 2 days. I think we all got used to or want to see replies under 24 hours but the current response time is very reasonable. And this is especially true that the response was courteous and well formulated. It was not the usual rude type of emails. We were very pleased with the feedback and the way they handled the query.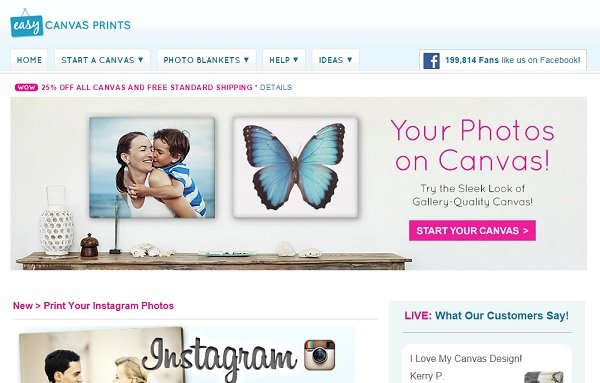 Cost/Pricing of Easy Canvas Prints:
A wide range of canvas sizes is available. The smallest size is 8" X 8" at a price of $29.99. The biggest size available is 30" X 40" at a price of $130.87.
Note that you can also customize the size of your canvas. And you can also get different sizes for different pictures (small, medium, large sets). The most common size canvas that is purchased is 16" X 20" priced at $67.06.
When your design is printed, a border is created that wraps around the edges and creates a nice looking three-dimensional effect. The main point is the attention to detail that the company pride itself on.
The standard size for this border wrap is 0.75". But if you want to create a more dramatic piece, the border can be extended to a "Gallery Wrap" that has a border of 1.5". Obviously, there is a small extra charge for the Gallery Wrap and it depends on the size of the canvas that you order. Prices start at $9.
Image retouching is also available for all pictures. Minor retouching which can remove red-eye, date stamps, or other small imperfections is available for $33.75.
Major retouching can be applied to your canvas. Major retouching can include, teeth whitening, wrinkle removal, add/remove people, or other difficult requests. Major retouching is $93.75.
NOTE: Even torn or stained photographs can be retouched and made into a canvas!
We have arranged a special discount for HelpfulReviewer.com readers that will automatically take 25% off your order. Read on to see how the discount works. But first here is what your prices would look like.
8" X 8" | $29.99 – 25% Discount = $22.49
16" X 20" | $67.06 – 25% Discount = $50.29
30" X 40" | $130.87 – 25% Discount = $98.15
Site Design:
EasyCanvasPrints.com is very easy on the eyes and the layout is very user-friendly. Creating a canvas could be intimidating but the process is laid out step by step, and never did I get to a point where I was confused as to what to do next.
Toll-Free Phone Number:
Email customer service is a great component of an e-commerce site, but I also feel that companies should have a toll free phone number available and listed prominently.
Easy Canvas Prints does have a toll free number 1-877-858-4586 and it is very visible on the home page. So you can always call them in case you have any questions. This is pretty important as when you have access to the phone and to the online email queries, you know that the provider is serious about providing the best experience possible for its current and future customers.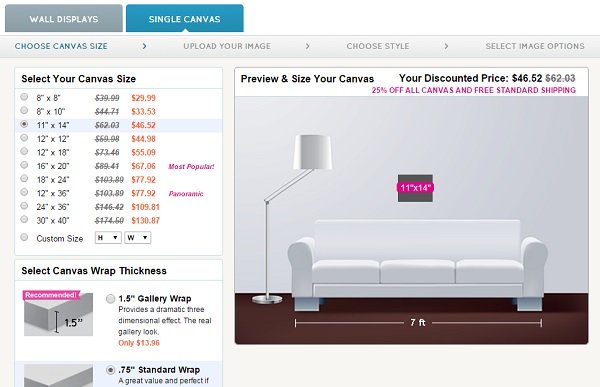 Privacy Policy:
Your privacy is important when dealing with an online website, and before you buy a product it is important to know how your private information (credit card number, name, address,) is handled.
The privacy policy for EasyCanvasPrints.com is very well laid out and user-friendly. Any questions that you might have are covered.
F.A.Q. (Frequently Asked Questions):
Buying a custom canvas online can seem a bit intimidating, but EasyCanvasPrints.com has a very helpful FAQ which answers the most common questions. The questions are broken down in an easy to read format.
Discounts:
Here at HelpfulReviewer.com we have arranged a special discount code. Simply click the big orange "Shop Now" button below. 25% will automatically be taken off your order total! If you live in the contiguous United States you will also receive free shipping! That's another saving to taken into account when purchasing nice Easy Canvas Prints.