Pros: A+ BBB rating
Secured site
Great customer service
Warner Brothers, Disney, Betty Boop available
Personalized photo checks
Great discounts
Easy re-ordering

Cons: High order handling rates
Smaller selection of checks
No NFL or NBA checks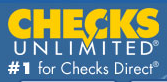 There are a lot of places to buy personal checks, and buying online is very easy. However, it is very important to feel safe when you are making a purchase and entering your personal bank information.
We reviewed ChecksUnlimited.com and were pretty happy with the results.
First and foremost Checks Unlimited is the leader in the personal check industry, both online and offline. You might see some of their ads in the Sunday paper or other flyers.
Checks Unlimited currently has an A+ rating through the BBB and has a very robust privacy policy. The site and shopping cart are secured so you can feel safe entering your banking information.
Checks Unlimited (CU for the rest of the review) has over 110 check designs that you can browse. Styles include various animal checks with dogs, cats, horses, and more.
CU also sells various inspirational and nature landscape checks. If you are a fan of Betty Boop, Disney or Warner Brothers characters you can buy licensed designs here. Unfortunately, NFL and NBA team checks are not available though all 30 MLB teams are. Both side-tear and top-tear checks are available.
If you would like to personalize your checks and add photos you can choose up to four pictures that will be the background of your checks. Photo checks are a little more expensive than standard checks, but they are really fun and unique.
Another way I found that you can customize your checks is by adding a personal quote. For $2.50 you can add up to 40 characters to each of your checks. Have a favorite saying or inspirational message? You can add it!
CU does not only sell personal checks, you can also buy custom address labels, checkbook covers and address stampers. These accessories are recommended to you when you are placing your order and can be just as easily customized as your checks.
Once you order from CU you are going to want to keep on ordering your checks through them. CU makes re-ordering checks very easy and offers discounts for return buyers.
If you are a new buyer you can still get discounts including multiple box discounts, and free address labels when you buy two or four boxes of checks.
Another benefit of buying through CU is the fraud protection offered for your checks. For $2.45 per box EZShield Plus protects you from forged signatures, endorsements, and altered checks.
Any lost funds as a result of that fraud up to $25,000 are advanced to you within 72 hours. For the peace of mind EZShield Plus offers it is a nice deal.
It is important to note if you do not want fraud protection you need to select no twice in the shopping cart, when you say no in the first drop-down menu you are saying no the the "Plus" version. You then need to say no to the basic version. This can be a little confusing when you are ordering.
I am very impressed with the customer service of Checks Unlimited. A contact form and support phone number are very easy to find. CU has a very helpful frequently asked questions page and their help desk will be able to answer any other questions you might have.
During business hours I sent a test message to the customer support team asking a question about shipping costs, they responded within a half an hour! Like I said, I am very impressed.
I went through the check-out process and it was very easy and user friendly. Adding customization and your bank details is simple, and you are guided through the process.
Printing of the checks takes 2-5 business days but if you are in a hurry you can get "In-Plant Rush" for $5.95 and get them quicker. Shipping costs depend on the speed, standard shipping is free, however, you are not given a tracking number.
If you want your order to be track-able, the cheapest rate is $8.95. 2-Day and 1-Day shipping are also available. There is a handling cost of $2.95 per box of checks which is high compared to other online check companies.
If you want to buy personal checks, Checks Unlimited is a great company to go through. They offer competitive check prices, a good selection of styles and great customer service.
If you are planning on placing an order, use our special HelpfulReviewer.com offer code to get a great discount
Pay only:
1-Box: $5.50
2-Boxes: $11.00
4-Boxes: $22.00
Plus: Free Shipping, Free Lettering
Enter coupon code: TGY7