Pros: Helpful learning center.
Holds your hand throughout.
Easy to work with.
Easy to navigate site.

Cons: Certain procedures cost extra.
Basic plan may not cover all you need.

IncFile Review
In this article, we take a look at IncFile, some of the services that they have to offer, as well as how they can help you.
Starting up a business, let alone a company can be a fairly tricky process. Not only is every business different and therefore every start-up process is different, but there are certain aspects of the law that must be taken into account.
If you've set up a company before then you may already have an understanding of certain legal processes that must be dealt with, although if this is your first time setting up a company it can be an anxiety-ridden process.
This is where IncFile.com comes into play. IncFile will help you get your company up and running as quickly as possible without you having to worry about dealing with anything other than getting started.
Today we are going to take a deeper look at what IncFile does and some of the services which they have to offer.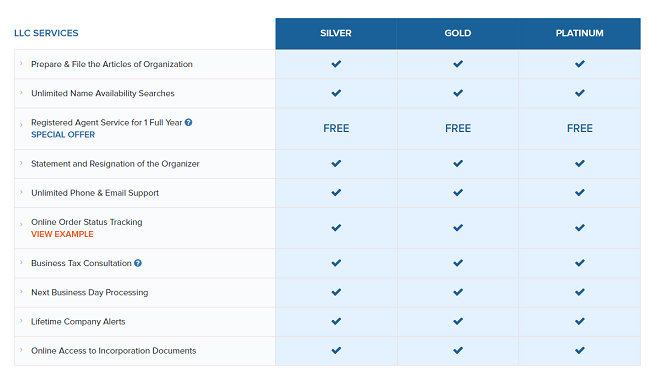 Their Packages
Simply put, IncFile has a lot of services. While this is great as it allows people to find a service that is specific to their needs, it wouldn't be logical to dig into every single one of their services.
However, there are some processes that are mutually included in all of their services.
Company Name
When I started my first company, this was undoubtedly one of the hardest parts of the process, as silly as it may seem. Finding the right name for your company can be a hassle and on top of that, when you finally find the right name and it has already been taken, you're back at the beginning.
IncFile will assist you in finding a company name that is suitable for your company and will ensure that it is unique, therefore legal trouble won't be an issue.
Documents
Another hassle is filing the right documents, although fortunately, IncFile takes care of this too. The correct documents will be prepared and filed appropriately.
Speed
Not all services will be fulfilled within 1 business day, although each service begins with company registration and this stage of the process will be handled within 1 business day in order to assure you that speed is a priority.
Registered Agent Service
As we mentioned before when it comes to business and companies the legal side of things isn't something which everyone is prepared for.
IncFile understands this and therefore are your registered agent service for the first year of your company.
Simply put, this means that they will accept all of the legal documents regarding your company and will deliver them to you, giving you advice in doing so.
It is worth noting that after the first year, this part of their services will be a paid service.
Online Tracking
With their online control panel, you are able to track their progress on your services in order to make sure that they are getting the work done rather than holding back.
This allows you to get on with other tasks while checking to make sure that their workers are continually working on the start-up process.
Free Shipping
Once all of the documents have been filled out and filed, you will be sent a copy of them for your own filing purposes, and it won't cost you a penny.
Additionally, any future documents which IncFile receive as your Registered Agent Service will be taken under this promise and again, won't cost you a penny.
Tax Consultation
As a business owner, taxes can be a daunting subject. IncFile offers a free business tax consultation and will not only inform you about the different taxes which you will have to pay upon launching your company but will guide you in the right direction.
The tax consultation consists of a 30-minute discussion with a certified tax professional who is able to provide you with a transparent explanation of the taxes you will be required to pay.
So, these are only some of the features which are consistent throughout their services and these are the ones which I feel are most useful, with consideration to first-time business owners.
Payments
Now, again with consideration to first-time business owners, you don't want to jump right into the deep end. Unless you have a rock-solid plan which has absolutely no flaws and you see no failure insight (which is an incredibly rare opportunity), then the last thing that you want to do is take out a loan to get things started.
Money isn't something which you will throw around with your first business, and IncFile takes this into consideration.
The services which IncFile offer start as low as $49 (as well as any state fees which are in place)
Looking for Something Bigger?
For the majority of this review we've focused in on smaller businesses and first-time business owners, and if you have owned a business before, this may be something to turn you away from taking advantage of the services offered by IncFile.
However, IncFile can accommodate large start-up companies as well.
If you're looking for services to assist you on a much bigger scale, then there are packages as high as $249 and along with this, there are several add-on packages which allow for you to not only get the most out of IncFile but make sure that your company is ready from the get-go.
Transparency
I feel like this is an important part of paying for a service, transparency. When you pay for an ongoing service, that money is coming out of your pocket, nowhere else.
Because of this, you want to know what is going on and where your money is going. Ultimately, you want to know that you are getting what you paid for.
IncFile, as mentioned before, provides a tool on their online dashboard in order to give their customers an insight into what they are actively doing to support the customer's company.
Not only does this provide you with a high level of transparency, but it can save you the trouble of contacting them to make sure your service is being fulfilled as you can simply keep track of their work online.
To Conclude…
From experience, getting a company up and running is a stressful process and ensuring that everything is done properly can only make the stress more intense.
All that we want to do is put our business idea into action and jump right in, but the confusing legal process holds back our urge to get everything started.
With the services that IncFile has to offer, you are able to jump right in while they handle the boring paperwork side of things.
In my humble opinion, with the range of services that IncFile has to offer, I feel as though they have proven to be a crucial part of getting a successful business off the ground.
If you haven't experienced the start-up process before, it's definitely worth checking out some of their services and looking into the one which most suits your needs.